Samuel Ready Scholarships – Winter 2020 Newsletter
A Note from the President
Samuel Ready Scholarships, Inc. is in its 43rd year of providing significant scholarship funds to Baltimore-area independent schools to ensure the complete, long-term education of deserving girls. It brings me such joy to share with you in this newsletter what current scholars are up to and also bring you updates on some of our wonderful alumnae who are out in the world doing great things.
Our current cohort of 28 scholars have had a busy and very successful first term at their respective schools. In addition to their high academic achievements, they are presidents — of school clubs, their class or their student body. Our scholars are editors of their student newspapers. They are vital to their school's drama productions — some are taking the stage and others are on the stage crew or making costumes. Our scholars are athletes — representing on the basketball, tennis, soccer, badminton, volleyball and even ice hockey teams. They tutor their peers and are student ambassadors for their admissions offices. And our scholars are in almost every school club — photography, Black Student Union, Muslim Student Association, Hispanic and Latino Student Association, Hip Hop Squad, choir, robotics, STEP team, and many more — the list could take up its own newsletter! It brought me such excitement to learn about some of our scholars' "firsts" — first foreign language class, first time taking music lessons, first time in a theater production, just to name a few. In addition, our scholars are accomplished outside of their schools — in the performing arts, volunteering in their community, etc. Samuel Ready Scholars are leaders at their respective schools, and it takes only a few minutes at the fall picnic or spring tea to appreciate the impact they have on their communities. We can't wait to see what the second term brings!
In this edition of our newsletter, we hope you will enjoy hearing about a few of our alumnae. We are also sharing information on fall events — our picnic that was held at Friends in September and the Legg Mason Mentor Day that was hosted by one of our generous donors.
On behalf of the Samuel Ready Scholarships, Inc. Board of Trustees, I would like to close this note with sincere thanks and gratitude. Samuel Ready Scholarships, Inc. could not do what we do without you — our community. So thank you for your great support of our mission.
Sincerely,
Meredith Stewart
Former Samuel Ready Scholars – Where are they now?
Patricia Burt, Ph.D. graduated from Roland Park Country School in 1991. She is now an Assistant Professor of music at the University of Delaware. Patricia has made a point of consciously thinking of her work in education as a way of giving back for Samuel Ready Scholarships' investment in her.
Alisha Williams graduated from Roland Park Country School in 2005. Alisha attended Duke University where she earned her bachelor's degree in biology with a minor in Spanish. She earned her Doctor of Medicine from Howard University in Washington, D.C. and in 2017 completed her pediatric certified residency training at Lehigh Valley Hospital in Allentown, PA. Alisha is currently in her second year of a pediatric critical care medicine fellowship at St. Christopher's Hospital for Children in Philadelphia.
Stephanie Stevenson Akoumany, Ph.D. graduated from the Bryn Mawr School in 2006. Stephanie earned her Ph.D. in American Studies at the University of Maryland, College Park in May 2018. Dr. Akoumany is the founder and CEO of Bloom, a leadership, wellness and community building company. Bloom uses the latest insights from public health, psychology and neuroscience to create roadmaps for holistic success. While an undergraduate at the University of Maryland, Stephanie introduced President Obama at the White House to speak on the importance of renewing Pell Grant funding.
Nurisha Rodriguez graduated from Friends School of Baltimore in 2012. She attended Union College graduating in 2016 with a degree in electrical engineering. Nurisha is currently working as an electrical engineer at GE Renewable Energy in Niskayuna, NY. She works in the Energy Storage Division with fellow engineers to provide storage solutions for wind, gas turbine and solar applications. Nurisha looks forward to working on global projects that will have a positive impact on the environment.
Mercedez Evans graduated from St. Paul's School for Girls in 2013. She graduated from Spelman College in 2017 with a major in psychology. While in college she was on the Executive Board of Operation SMILE, an organization that raises funds for cleft lip and palate repair surgeries. Mercedez also volunteered with Raising Expectations, an organization that helps empower underserved youth. Mercedez is currently the Middle School Administrative Assistant at St. Paul's School for Girls where she has the opportunity to mentor SRS Scholars.
Fabiana Berenguer Gil graduated from Garrison Forest School in 2014. She matriculated to Cornell University to study architecture and earned a five-year Bachelor of Architecture degree from Cornell in 2019. She is currently working in New York for Food New York, an environmental design firm which focuses on community building.
Cierra Chandler graduated from the Institute of Notre Dame in 2015. Cierra graduated from Syracuse University in 2019 with a Bachelor of Science in Chemical Engineering with honors. During her undergraduate years she was a resident advisor, an academic excellence facilitator within the Engineering College, as well as a Ronald E. McNair scholar. Currently, she is pursuing her Ph.D. in Materials Science and Engineering at Pennsylvania State University and was awarded a CoMET Fellowship. She aspires to teach at the University at the end of her degree program.
Samuel Ready Scholarships Fall Picnic
On Saturday, September 28, 2019 Samuel Ready Scholarships, Inc., (SRSI) celebrated its Scholars and their families at the annual picnic held at Friends School of Baltimore. This is one of two annual events the Board holds for its Scholars. There is also a spring awards tea held in late April. The fall picnic was sponsored by B.F. Edwards Eshmont/Weiner/Rubin Financial Team. Over 100 attended including Samuel Ready Scholars and their families, members of the Board of Trustees and Supported School officials.
Meredith Stewart, President, welcomed the attendees and thanked the staff of Friends School, event Chair Sue Murk as well as Sue's committee. Anne Powel Davis led the Scholars and other attendees in a team-building exercise.
Cinneah El Amin, a 2012 graduate of Friends School of Baltimore and a former Samuel Ready Scholar, was the featured speaker. Cinneah graduated from Barnard College in New York in 2016, earned a master's degree in business administration from Wake Forest University in 2017 and is currently a manager in Product Development with American Express. You can read her full speech below.
I want to begin by telling you about a young woman I met following my remarks to the Friends School Upper School earlier this week. The young woman approached me asking how I developed my confidence as she was struggling to find her place within her class and the broader Upper School. Although she is a bright and accomplished student, she was not adjusting well to the social pressures of popularity in high school. Her words really resonated with me as I thought back to the times when I too struggled to find my place within Upper School. Although I had close friends, there was I time when I wanted to be part of the upper echelons of my high school's social hierarchy. As a Black student with an affinity towards challenging courses and music, I sometimes felt like an anomaly – not quite fully part of any group but always acutely aware of how my identities made me stick out from the other students. It was from these struggles that I grew a confidence that has propelled me forward. So in the next few minutes I have with you today, I'd like to share a bit about my journey to inspire my fellow scholars as they chart new paths.

If Upper School is where I began to first find myself, Barnard is where I blossomed. The Class of 2016 was Barnard's most competitive class to date – only 21% of the nearly 6,000 applicants (including me) were accepted. When I received my acceptance letter, I couldn't really appreciate what it all meant. Once I visited campus for Accepted Students Weekend, however, I knew I had found a place for me to fiercely bring my full self. It was at Barnard that I felt a sense of community and belonging that I'd never felt before. Academically, I poured myself into texts that affirmed who I was, reading great novelists and thinkers like Ntozake Shange, Bell Hooks, and Audre Lorde for the first time. I traveled around the world – first, as a sophomore when I was selected as a Global Symposium Fellow to lead young women's leadership workshops in Shanghai, China and later, as part of an immersive study abroad program. I climbed the rank of student organizations and as a graduating senior, was presented with one of the most prestigious student awards for my community involvement. I no longer felt like an anomaly, rather I felt encouraged, supported, and inspired by the women I met at Barnard.

My journey beyond Barnard was full of serendipity. I approached senior year not entirely sure of what I wanted to do next. As an accomplished student, part of me felt like I should have had my next steps all charted out. Throughout my semesters and summers, I had interned at big media companies like Viacom but wasn't inspired to pursue that path as a career. I ultimately decided to pursue a graduate degree to gain business acumen and re-pivot to another industry. In my senior spring, I learned I would be awarded a full-tuition Corporate Fellowship to attend Wake Forest University School of Business in Winston-Salem, NC – all thanks to American Express. In this Master's program, I spent fifteen months learning the foundations of business and management for the first time. I once again pushed myself to thrive outside of my comfort zone. I networked furiously and from one of those connections, I landed my first job at American Express. I joined as a Senior Analyst in Product Management – having the opportunity to work on a high-profile card launch that was widely successfully and to date has changed the way American Express does business. Now, as a Manager in Product Development, I am a decision maker involved in leading the development of our new products. Every day I am challenged to think critically to improve the customer experiences of our millions of Card members.

As I reflect on my experiences from Friends to Barnard and beyond, I can't help but think of this quote: "There's a big, beautiful world out there just waiting for you. The scary thing is it's up to you to make it." I had no idea as a Friends School student where my journey would take me. I couldn't have imagined that I would travel to over 25 countries before my 25th birthday, speak in front of five thousand attendees at my Commencement ceremony at Radio City Music Hall, or launch new ventures like Flynanced™ — all this was possible because I trusted the process and believed in myself.

I would be remiss not to acknowledge the impact that my experiences as a Samuel Ready Scholar had on my life. In events like the Fall Picnic and Spring Tea, I heard from alumnae who inspired me and showed me what was possible. I saw that a young woman from Baltimore like me could go on to be a leader in business, politics, and any field I desired. I learned the value of hard work and never settling for less than excellence. Without the Samuel Ready Foundation providing support to my family throughout my years at Friends, I simply would not be the woman you see today.

In closing, I'd like to thank the Samuel Ready Board as well as Matt Micciche and Jeanne Phizacklea from Friends School for inviting me back to campus. Your support means the world to me.

To the scholars, I want to leave you with these parting words: You must keep going – no matter how challenging the obstacles in front of you may seem. You are human and you will make mistakes – don't sweat the small stuff! You are not an anomaly. You belong in any classroom, boardroom, and table presented in front of you. Go confidently, knowing that all of us in this room and beyond are cheering you on. Thank you.

Delivered September 28, 2019
By Cinneah El-Amin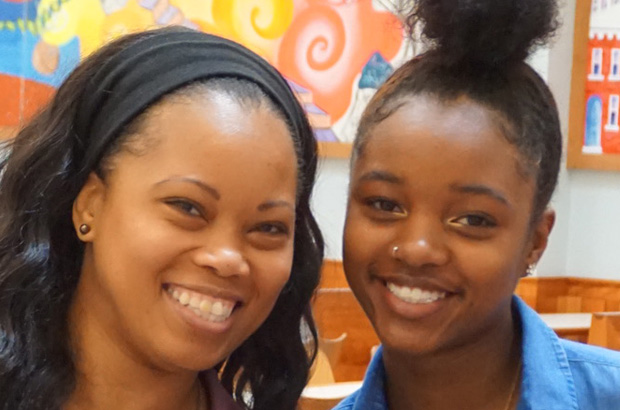 Corporate & Foundation Philanthropic Support
The Women's Leadership Network (WLN) at Legg Mason Global Asset Management continues to partner with Samuel Ready Scholarships (SRSI) as part of their successful corporate citizenship efforts. SRSI is delighted with this relationship, which provides positive educational and invaluable mentoring experiences for the Scholars. Legg Mason Global Asset Management also provides important financial support for a dual Scholar.
On November 20, 2019 Legg Mason WLN held their annual Mentor Day. Eight of our junior and senior Scholars attended. It was a fantastic day at the Baltimore waterfront harbor corporate headquarters of Legg Mason. The attendees heard an introduction to Asset Management by Tom Galloway a National Account Manager, participated in a dynamic House of Ruth discussion of healthy relationships, followed by small group mentoring with Legg Mason professionals. The Scholars had lunch while the keynote speaker Tamla Olivier, Senior Vice President at Constellation spoke about "Defining Moments." The afternoon sessions featured social media dos and don'ts and a Toastmasters Table Topics interactive exercise. It was an outstanding day!
Thank you, Legg Mason Global Asset Management and the Women's Leadership Network!